Beautiful Together's Orphanage Bathroom Renovation: Officially Completed!!
We are thrilled to announce that the orphanage bathroom renovation that has been in process for nearly two months is finally, totally, beautifully completed!! When we first announced this Beautiful Together project, we weren't sure exactly how long it would take or what kind of complications we might run into, but much of the work was done before we traveled to Ethiopia, and it was done well – so when we arrived, we were able to walk through the bathrooms and just talk through paint, adjustments, updates, and additional things we'd like to add to the overall project, which was a huge bonus.
MASSIVE thanks to Larry Leuallan (!!!), Rangefinder Magazine/WPPI, Lauren Wendle, Tricia Kelly McCormack, Diane Rausch Belden, Sarah Coppola, Tom and Laura Witt Fenn, Teresa Prociuk, Thunder Cloud Images, Kryrissa Morgeau, Carlie Brunelli, Derek Aheme and Brooke Shaden for their contributions to this specific project! Their donations were extraordinarily impactful. (And, of course, we are always grateful for the constant donations and the ongoing support of Lush Albums!)
Everything started by stripping the bathroom of what the children at this orphanage had been using for years. As ground broke on the project, and each rusted and rotted toilet, tank, and piece of disintegrated plumbing was removed, we became more and more excited about the simple dignity of clean, new bathroom fixtures.
Next up was picking out all the shiny, clean, brand spankin' new sinks, western toilets and "turkish toilets", or squat toilets as they are frequently called. We had initially wanted to install only conventional western toilets but were informed by the caregivers at the orphanage that many of the younger children could not use them on their own, that the little ones would actually fall in or get stuck. There's no leaving a smaller toilet seat there for children to manage on their own, with the strain of trying to supervise 65 children with an already-stretched care staff. So we invested in a combination of each type for both major bathroom areas and found that to be a rather smart decision, especially after witnessing some of the tots' full-on comic efforts to use western toilets!
After all the old fixtures were removed and all the new equipment was installed, we were able to move on to managing some of the plumbing issues and drainage leaks that were damaging the inner and outer walls of the orphanage and causing mold issues. In addition, some small updates were made to fixtures in the kitchen, to help it run more safely and efficiently.
While the fresh coats of paint were applied across the bathrooms, in such bright, cheerful colors, we asked for some additional minor changes, like a door to close more smoothly, a lock to be fixed, or small sections of cracked tile to be replaced in multiple locations.
There was a lot of celebrating the clean, new digs: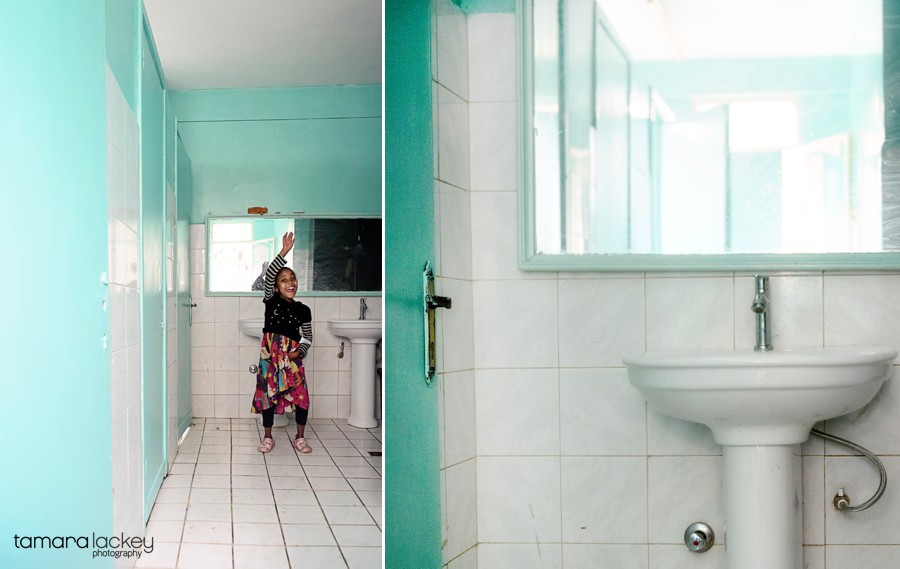 As the kids embraced their new bathrooms, we asked for one last addition to the orphanage bathroom renovation project: HAND SANITIZERS. As wonderful as it was to have new sinks with fresh, running water, the day-to-day reality of life in Ethiopia is that the water is simply "not running" all the time.
Sometimes, you turn the handle and water flows out; sometimes you turn the handle and the sink remains bone dry. And, besides that, a bar of soap is not always handy. The option for children at this orphanage before this renovation was to simply plunge their hands into a barrel of lukewarm water that sat in the bathroom.
The incredible germ-controlling, infection-managing, cleanliness-boosting benefits of being able to use waterless soap was something we really, really, really wanted these kids to have. According to the CDC, or The Centers for Disease Control, the most significant way to stop the transmission of a variety diseases is to frequently wash your hands with soap and water and/or use a hand sanitizer.
When these children have absolutely no option to wash their hands with soap and water, which occurs frequently, it's a wonderful thing that they can still use waterless soap to kill nasty bacteria that can hurt their sweet, beautiful, growing little bodies (Okay, can you tell I really, really, really wanted them to have hand sanitizers???). This last addition to the project was the last part to be installed, tested, and found to be completely working, along with every other aspect of the project, point by point.
Although this was not the first project we completed for Beautiful Together (that was our Portrait Gallery!), this was the first one we had officially kicked off, the first one we started, and the first we had fully funded, due to some extremely generous hearts. We are extraordinarily, overwhelmingly proud to see it completed in its entirety.
I can't wait to finish our Safeguard The Orphanage project next, hopefully within the next couple of weeks. The majority of work has actually already been done, and it's just those final pieces that can take a little while to complete. And I can't wait to kick off our Light Up The Classroom & Educational Center project soon. Think solar panels. And bright minds getting brighter. Lots and lots more to come, too. I love this work. I am so grateful for how many people care.